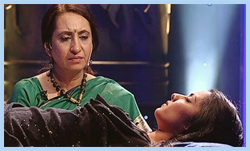 Dr Trupti Jayin is the founder of SETU an organization where inner learning is facilitated. She is the recipient of many accolades for her pioneering work in the field of Past Life Therapy through her acclaimed show Raaz Pichle Janam Ka and has been felicitated by many social and educational organizations in India. The Spastics Society of India, Diamond Merchant Chamber, Rotarians, Indian Merchant Chamber, YPO, Bombay Industries Association among others had awarded her for the meritorious service in the field of inner transformation.

She has presented papers at the Past Life Regression Congress (PLRC) regularly. Her research papers were in the topics of EMDR and Past Life Facilitation and Art and Creative Writing in Past Life Exploration. In 2018 she will present on Injunctions and Family Constellation and Transactional Analysis and Regression Therapy.

She has been creating magic with her Mystic Journey Workshops on Past Life Therapy, Spiritual Numerology and Transactional Analysis. She also has designed an NLP- Programming the Subconscious Workshop called Shabd Yoga.

She conducts four levels of training for those interested in becoming torch –bearers for spreading spiritual knowledge to all.
Level 1: Mystic Journey – and experiential workshop to develop personal insight and personal growth.
Level 2: The Therapist Training Course. This week long retreat teaches and trains participants to become certified past life therapists.
Level 3: Healing the Inner Child. This is a four day retreat which heals the wounded child within. It helps those who wish to heal themselves and also trainers.
Level 4: A Master Level Course which is for those therapists who wish to become Spiritual Coaches. This is for 5 days.
Dr Trupti is a Clinical Psychologist and Occupational Therapist from the reputed G.S.Medical College, Mumbai and is a certified Past Life Therapist/Rebirthing Expert who has been working for the last three decades in the field of Mental Health with children, adolescents and adults.

She is a trained Gestalt Therapist, NLP Trainer and EMDR Facilitator. She has done innumerable psychotherapies including Dream Analysis, Art Therapy and Movement Therapy.

Working with Adapt ( Spastics Society of India) since 1984 she has developed many psychometric tools for emotional and intellectual entrainment for challenged children. She has devised many learning programs and workshops for them including Anger Management Seminars, Conscious Parenting and Personality Development for Adolescents. Her recent workshop is called A Spoonful Of Sugar for New Age Parenting.

Naturally Clairaudient and Psychic she has travelled all over India conducting her workshops in Delhi, Mumbai, Noida, Lucknow, Junagadh, Kolkata, Trichy, Bangalore, Jaipur, Ludhiana, Chandigarh, Raipur, Gandhidham, Ahmedabad, Rajkot and abroad in Leeds, Bradford, London, Khatmandu, Hong Kong, Singapore and Dubai

She maintains a private practice in Mumbai at Cozy Nursing Home at 7 Bungalows.

She has done more than 7000 individual healing sessions on Past Life Therapy and innumerable group regressions.

Go ahead and read more on the fascinating world of healing and spiritual living which many who have arrived for their healings in my workshops and private sessions have experienced. All the testimonials are written by them personally.