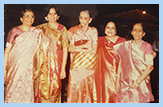 Ancestral Spirit Release Therapy and Systemic Family Constellation:
This is an alternative therapeutic method which draws on the elements of family systems therapy, existential phenomenology and Zulu attitudes to family. In a single session a Family Constellation attempts to reveal a previously unrecognized systemic dynamic that spans multiple generations in a given family and to resolve the deleterious effects of that dynamic by encouraging the subject to encounter representatives of the past and accept the factual reality of the past.
The group and individual constellations can bring much relief to the person.

Sunita is married for twenty -five years. She has two daughters old enough to leave the nest. She called to say, " I am married and having an affair with my brother-in -law for the equal amount of time I have been married." I told her, " Does this mean you are married to two brothers at the same time." Such relationships are karmically entangled and need to be unknotted so that the effect of it does not penetrate further into the next generations. As parents our duty is to raise our consciousness to a level that understands the consequences of our actions. There are many who take shelter of " destiny" for such occurrences and forget the gift of " free will."
Let's take another example from Bert Hellinger the father of Family Constellations, from where I have developed Ancestral Spirit Release Therapy ( ASRT).

The Grandfather had affairs. The Grandmother sulked and put up with it. In their day, divorce was shameful. Besides Grandfather had a certain position in society, and Grandmother would lose it if she left him. But in her heart, she was furious with him, and with men. Her grand-daughter cannot keep a relationship going. She quickly becomes aggressive and angry toward her partners. She is ENTANGLED in her grandmothers anger and acts it out against all men.

The effect of what our grandparents do is not over. The granddaughter is showing "SOLIDARITY" with the grandmother. She is saying, " I agree, Granny, all men are to be rejected." Does this anger belong to the grand-daughter or is is displaced anger from the grandmother? Is the grand-daughter bearing the cross unknowingly and will she in turn give it to her daughter. This is how the ancestral energy spreads from one progeny to another. This is what you may call the " ORIGINAL SIN" which family members transfer to another.

Look around in your family. If there are young people suffering or bearing the cross of the older generations sins, it's time to work with it and free them from the family दोष।
If you have put things under the carpet, it's time to dust it. I will soon hold the ASRT workshop and dates will be announced here.